The Latest News from the Cinematic Asylum
The Kill Giggles OFFICIAL Theatrical Trailer is Here!! - 11.06.19
On behalf of Mad Ones Films, and the cast/crew of Kill Giggles, we are excited and delighted to be a part of an amazing cinematic summit going on in Greensboro TONIGHT! Just in time for the Halloween holiday, film fanatics in the Triad will get a chance to see some amazing spells of movie magic made right here in our own Piedmont back yard!! Don't miss some brilliant trailers (including a little clown-killer thriller coming soon), a bit of video voodoo and astounding short films as well as the WORLD PREMIERE of "someday"! Check out Someday Premiere + Best of Triad Short Films (GSO 48 & TFC)!!
We're also excited and delighted to report that post-production work on Kill Giggles continues to kick ass with our newly complete rough cut! Now the hard part really begins as we start lining up the darlings to kill. The ALWAYS amazing Jesse H. Knight has also been working away on the official THEATRICAL TRAILER which will debut online on Halloween! However, we do have a little treat for you early with this trailer teaser for mass Mad Ones consumption below...
---
Kill Giggles post-production updates, trailers AND MORE!! - 10.02.19
On behalf of all the inmates running the cinematic asylum here at Mad Ones Films, we would like to wish you and yours a HAPPY HALLOWEEN MONTH! While we try to live our lives like EVERY day is Halloween, the closer we get to the 31st, the more excited and delighted we get@! To celebrate, we have some brand new treats for you, and while they may tease, killing clowns is NO trick true believers!!!
We're also happy to report that post-production work on Kill Giggles is progressing nicely and the rough cut will be here before we know it! In the meantime, the ALWAYS amazing Jesse H. Knight has been diligently hard at work cutting together not just ONE but TWO teaser trailers while also editing the rough cut. Both teaser trailers had fantastic world premieres at the GenreBlast and Wreak Havoc Horror Film Festivals respectively, and are now available for mass Mad Ones consumption below...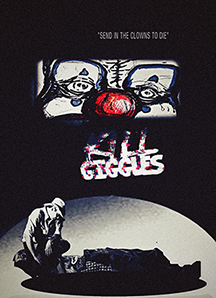 And if those weren't enough to satiate the clown-killer in you (and believe us, we can understand), then we can promise you that the OFFICIAL THEATRICAL TRAILER is nearly complete! The thrilling chilling picture lock is waiting just around the corner and after that it's off to be scored by the brilliant Ron Wasserman!! Stay tuned as we'll be looking to do some sort of extra special premiere event for it, so as soon as any of those devilish details start to surface, we shall certainly share them there!!!

We will also soon have some news to share regarding, "INSIDE THE CIRCUS TENT: THE MAKING OF KILL GIGGLES," a feature-length behind-the-scenes documentary that was shot during the production of Kill Giggles! It's got interviews, on-set shenanigans, and spoilers both gore and galore!!!

While we were running movie-making amok at this year's GenreBlast Film Festival we were also lucky enough to cross paths with Jason Delgado, a terrifically talented actor, writer, producer AND artist (with a penchant for KILLER movie poster homages, who was awesome enough to make us this "American Werewolf in London"-inspired image from one of our most favourite scenes in ALL of Kill Giggles. Thank you Jason, so much, this is beyond badass!!
We've also making more appearances on the podcasting circuit lately, having had awesome guest spots on both the Sacrificial Terror Podcast AND The Movie Raid podcast!! Check out the videos below and stay tuned for where our fearless leader/creative director will be showing up next!!!
---
Kill Giggles has WRAPPED Principal Filming! Catch up on all the clown-killing news AND MORE!! - 07.23.19
Greetings and salutations dear movie maniacs and film fanatics, we have missed you VERY MUCH!! We must apologise for being "incommunicado" these last five months, but we CAN promise you that we had the best reason why... because the cameras AND the clown heads are done rolling on Kill Giggles!!! The inmates running the asylum at Mad Ones Films have been running all kinds of amok the last four months doing location scouting, casting, meeting with FX and camera crew, character concepts, and paperwork... lots and lots of paperwork. We then spent 19 DAYS shooting our very first feature film at over 36 locations in and around North Carolina, and holy hells, do we have SUCH sights to show you! But don't take our word for it, check out the stills below!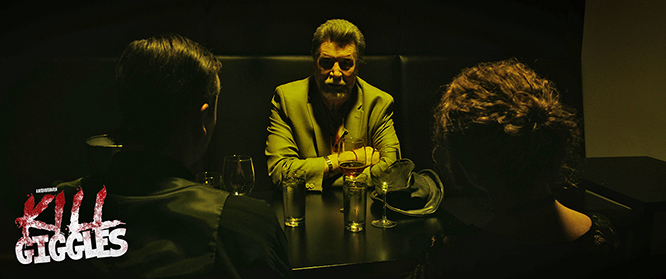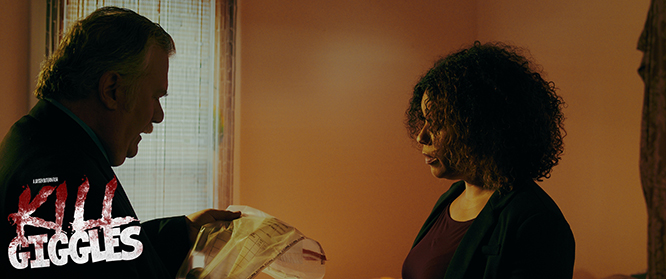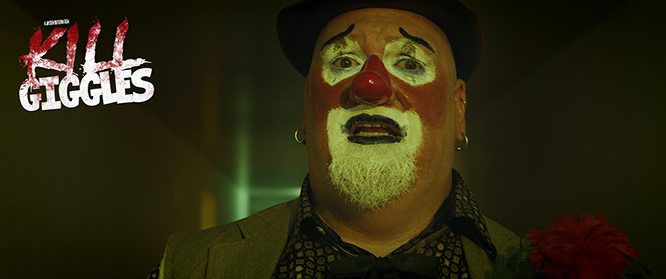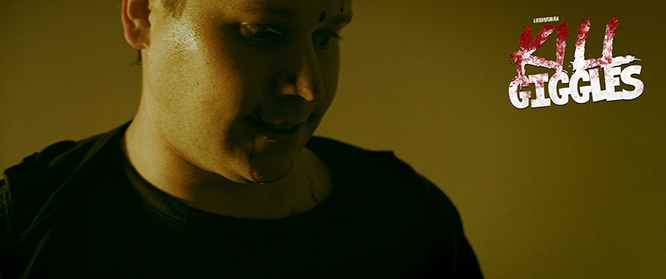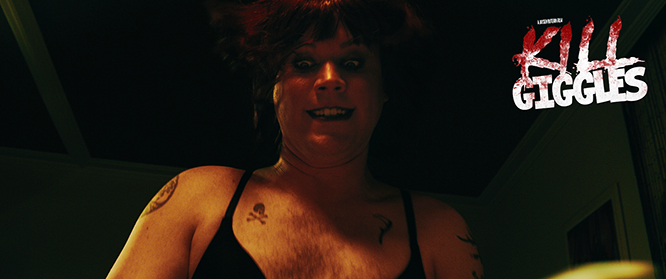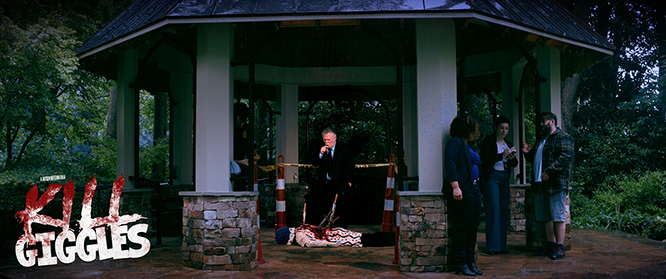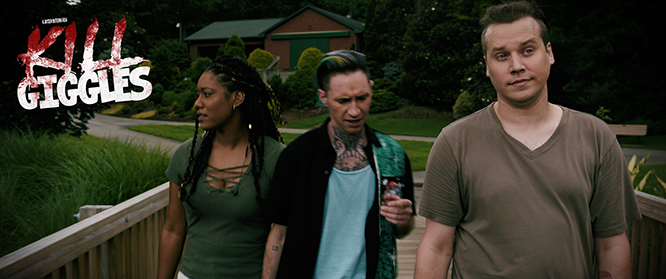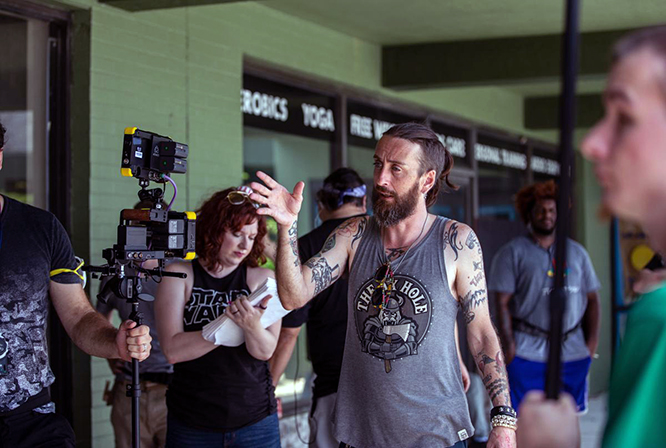 We were also lucky enough to have several local newspapers cover various parts of the filming process! The Asheboro Courier-Tribune, The Greensboro News & Record, and The Winston-Salem Journal ALL devoted a lot of page space to the movie-making magic we made RIGHT HERE in our own backyard! We are extremely grateful for the time of all those involved in the articles, as well as the entire cast and crew for giving them so much to work with!!!
And on top of all that, we have some amazing film festival new to share with you as well. We are excited and delighted to announce that the stay-at-home horror/thriller, THE CORNER, is an offical selection at the inaugural Reel Horror Film Fest in Bloomingdale, IL this October!! Coming up before that will be the second festival appearance of WAR OF THE LIVING DEAD, which is not only an official selection of the GenreBlast Screenwriting Competition, but is also a FINALIST as well!!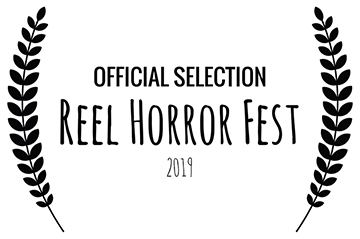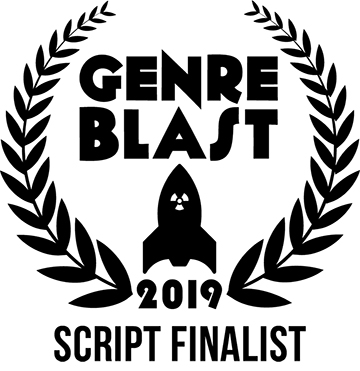 ---
Less than FOUR MONTHS until we send in the clowns to die! KILL GIGGLES is coming soon - 02.27.19
That's right, movie maniacs and film fanatics, there are less than FOUR MONTHS until the cameras AND the clown heads start rolling on Kill Giggles!!! We know we've been MIA for a spell, but we assure that we have the best reason for it... PRE-PRODUCTION!!! The inmates running the asylum at Mad Ones Films have been running six kinds of amok doing location scouting, casting, meeting with FX and camera crew, character concepts, and paperwork... lots and lots of paperwork. We are also running the clown-killing hype machine 24 hours a day by appearing at one of our favourite film festivals, the MystiCon Independent Film Festival, to spread the "Coming Soon" word!!!
We've been recording some behind-the-scenes brilliance with various cast and crew members of KILL GIGGLES whenever we have the chance, and today we've got a BRAND NEW interview to share with our Make-Up FX Director, the brilliant and the badass Mr. Joh Harp of Joh Harp FX, who comes up with some of THE BEST answers that we've gotten to our questions so far! As eloquent as he is elegant, sit down for a spell and spend some time with the WORLD PREMIERE of Joh's episode. We'll be back at the end of the week with a whole slew of casting announcements, including a former road warrior and misfit!!!
---
Lights, Camera... Come Get In On the Action! - 01.18.19
We are excited and delighted and sincerely grateful to Billy Ingram and YES! Weekly for shining one hell of a light on the clown-killing movie magic soon going on right here in the Piedmont Triad!!! Sneak a peek at this brilliant article THEN invest in Kill Giggles today and become a part of horror movie history forever! Lights, camera... GET IN ON THE ACTION at www.startengine.com/kill-giggles and let's send in the clowns to die!!! #KillGiggles #SendInTheClownsToDie #SupportIndieHorror #MadOnesFilms #YesWeekly #NCFilmIsAliveAndWell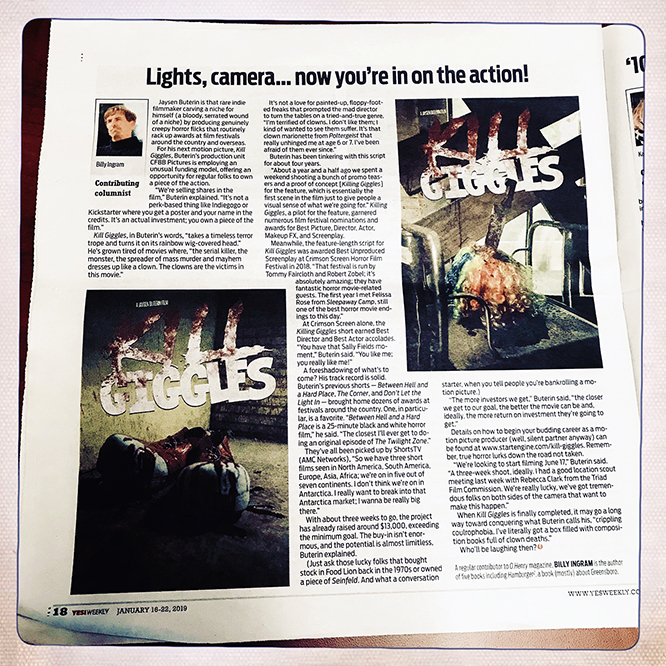 With just over three weeks left in the campaign we are excited and delighted to welcome aboard several new investors, hopefully a whole bunch of new followers and friends, and even some new cast and crew members to the Kill Giggles Experience!!! We apologise for the delinquency in delivering updates but we've extremely busy since PRE-PRODUCTION OFFICIALLY STARTED THIS WEEK!!
We are very excited to be working with Beth Compton, an excellent location scout/manager we've worked with before, as well as Rebecca Clark (director of the Piedmont Triad Film Commission) to find all of the absolutely amazing locations that we need for this film that are scattered all over this gorgeous state of North Carolina! The first block of filming will begin in mid-June so stay tuned for more pre-production updates as well as some final cast and crew announcements!!!
Kill Giggles is going to be an amazing film AND filmmaking experience. It's a story that has NEVER been told before, and that is a rare—if not downright impossible—feat in this day and age in ANY genre, let alone the exciting delighting cinematic cocktail that is thriller and horror!!! We've shown you lists of films and television shows that have done the same exact thing time and time and time again... over and over and over, with the serial killers/monsters/maniacs always dressing up like clowns to spread their murderous mayhem.
And then there's us over here at Mad Ones Films, and we want to do something COMPLETELY DIFFERENT, and we want YOU to join us!! If you've ever wanted to be a part of movie magic but just didn't know how, NOW is the time!!!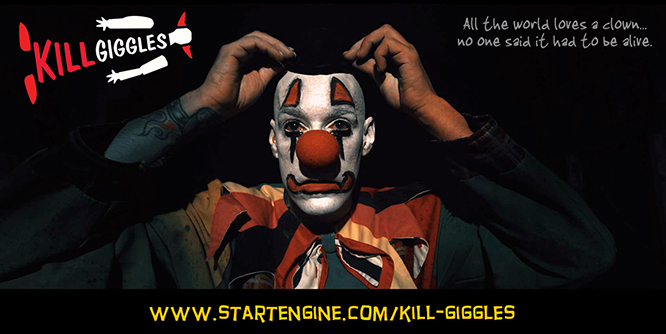 2019 Mad Ones Films News & Updates Archive