The Zombie Service Announcement Series (ZSAs) (2008-09)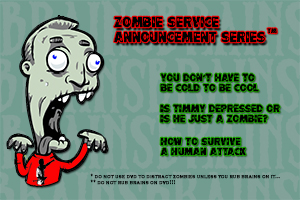 Synopsis
The events that preceded "The Day of Rising," had been catalogued by pundits, preachers, and the hosts of poorly-funded cable access shows across the country. Those who foresaw these troubled times as "harbingers of the impending apocalypse" received many rolled eyes and unpleasant responses with their claims. While those "in the know" made preparations for Z-Day and stocked their survival kits, the masses were largely unprepared for the legions of undead that soon sauntered into their living rooms. This grid locked the country with panic, hysteria, and second-guesses, leading to the rise of a new breed of assassin vigilante, of which our Hero is a card-carrying member.
ZSA #13: You Don't Have to be Cold to be Cool
ZSA #76: How to Survive a Human Attack!!!
ZSA #42: What to Do if You're Trapped in a Zombie Movie
Credits
| | |
| --- | --- |
| CAST: | CHARACTER: |
| Will Shuford | Ben Jones |
| Micah Moore | The Hero |
| Jennie Prince | The Damsel |
| Chao Vang | Zombie #1 |
| Nhia Vang | Zombie #2 |
| Vikki Setliff | Zombie #3 |
| Seth Greer | Zombie #4 |
| J. Evan Wade | Zombie Boy |
| Shannon O'Shea | Zombie Girl |
| Will Huneycutt | Human #1 |
| Jennie Prince | Human #2 |
| Phoenix Mangus | Human #3 |
| Mark Prince | Human #4 |
| CREW: | |
| Written & Directed by | Jaysen Buterin |
| Produced by | Mad Ones Films |
| Director of Photography | Mikey Cordes |
| Cinematographer | Ken Randall |
| Editors | Jaysen Buterin, Will Huneycutt & Ken Randall |
| Sound | |
| Make-up FX | Seth Greer, Nhia Vang |