The Gospel According to Booze, Bullets & Hot Pink Jesus (2009-2013)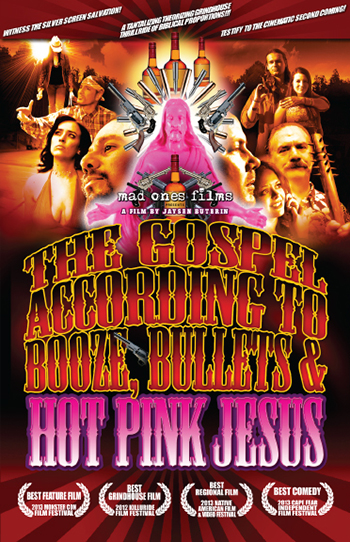 Synopsis
The Gospel According to Booze, Bullets, & Hot Pink Jesus is a tantalizing, theorizing thrill-ride of a short film trilogy. Part Twilight Zone, part Tarantino, and all Mad Ones Films, the three tales that comprise this cinematic second coming blend dark comedy with even darker action – all with a supernatural twist and razor-sharp wit.
This innovative project is the cinematic culmination of a four-year labour of love that was initially released as three individual short films, allowing viewers to literally watch the movie as it was being made. Act I: The Missionary Man and Act III: Have Faith, Will Travel have slowly become film festival favorites, garnering almost thirty "official selection" screenings and seven awards over the last three years. Now, with the recent completion of Act II: A Saint of Sin in a Den of Thieves, the full-length feature-film version makes its divine debut before the saints and sinners in the hometown where many of its scenes of it were filmed.
Act I: The Missionary Man (2010)
After a tragic incident got Mister Michaels expelled from the seminary, he became the Missionary Man, a traveling sinister minister spreading the Gospel with one hand and robbing you blind with the other. When a mysterious stranger suddenly shows up with an offer too good to be true, he soon finds out that the sins of the past have a wicked way of catching up with you.
Act II: A Saint of Sin in a Den of Thieves (2012)
Trickster was a red-skinned silver-tongued devil who would rather lurk amongst criminals than live on a reservation. Diana Maria was a gorgeous señorita content to live a care-free life with her market and her memories. As luck would have it, when their paths crossed and their eyes met, their fates were sealed.
As bad luck would have it, her father just happened to be the sworn enemy of his uncle in a long-standing crime feud that grew dirtier and deadlier by the day. As the star-crossed lovers speed towards their destiny – the bad guys and the good guys, the cowboys and the Indians, even the Mexican mob and the ATF – all descend upon them in an explosive climax. But if lust is just a sin… then love is worth going to hell and back for.
Act III: Have Faith, Will Travel (2011)
A gringo whose cozy little job with the Mexican mob went awry, a failed actor and dejected athlete living in the past, a stripping diva with criminal delusions of grandeur, and a prodigal son with something to prove. Unbeknownst to them, they're all after the same get-rich-quick fix. However, the one man standing in their way doesn't feel like letting go of his lucky streak just yet.
When Faith suddenly finds herself plunged headfirst into a shady world of booze, bullets, larceny and lawn darts, her only chance for survival is being at the wrong place at the right time.
Mad Notes
Official Teaser